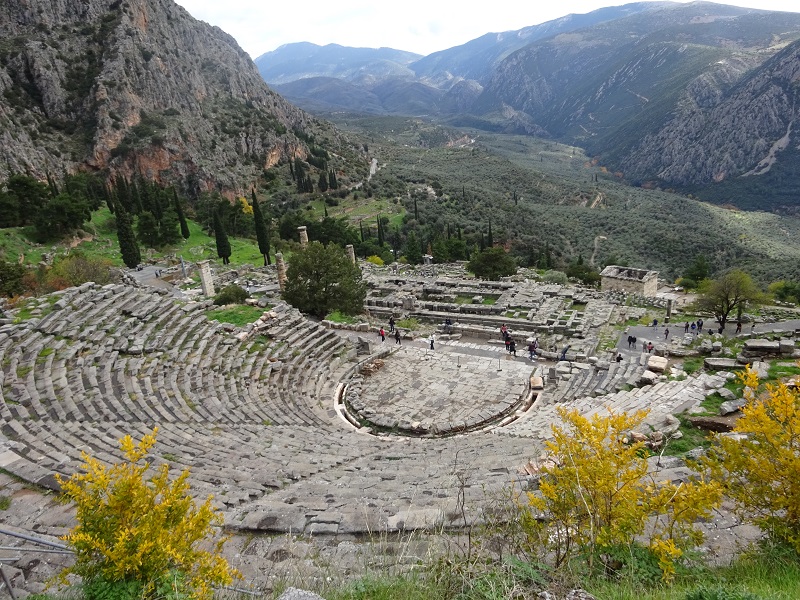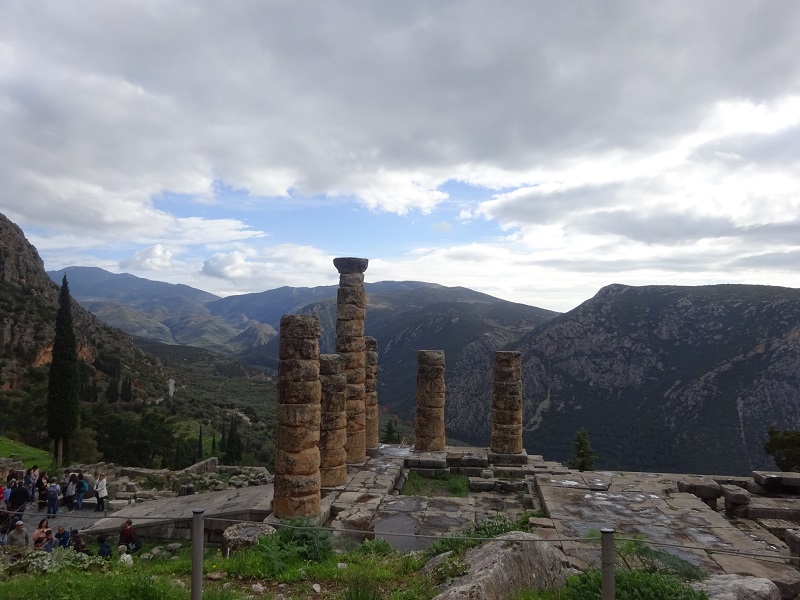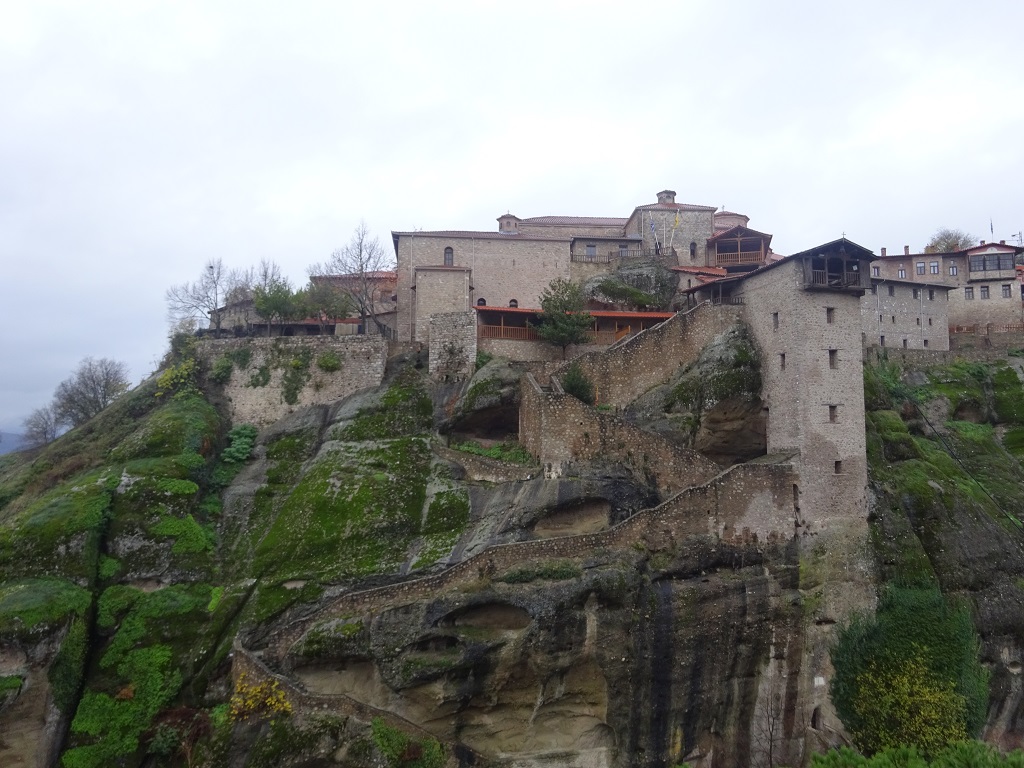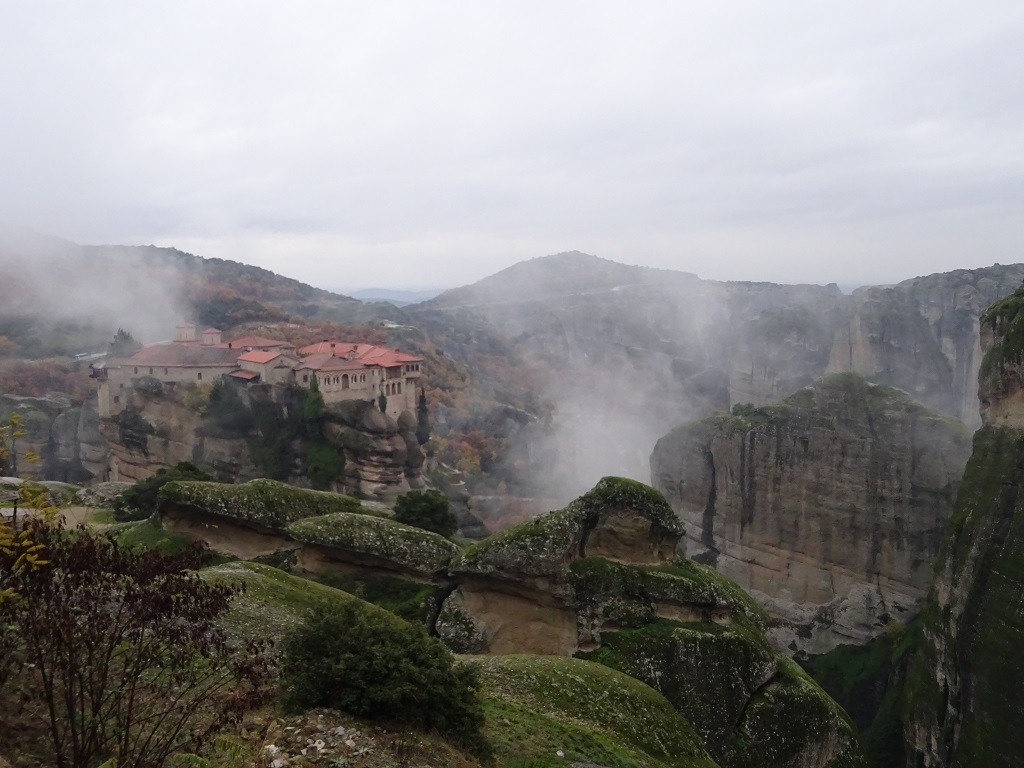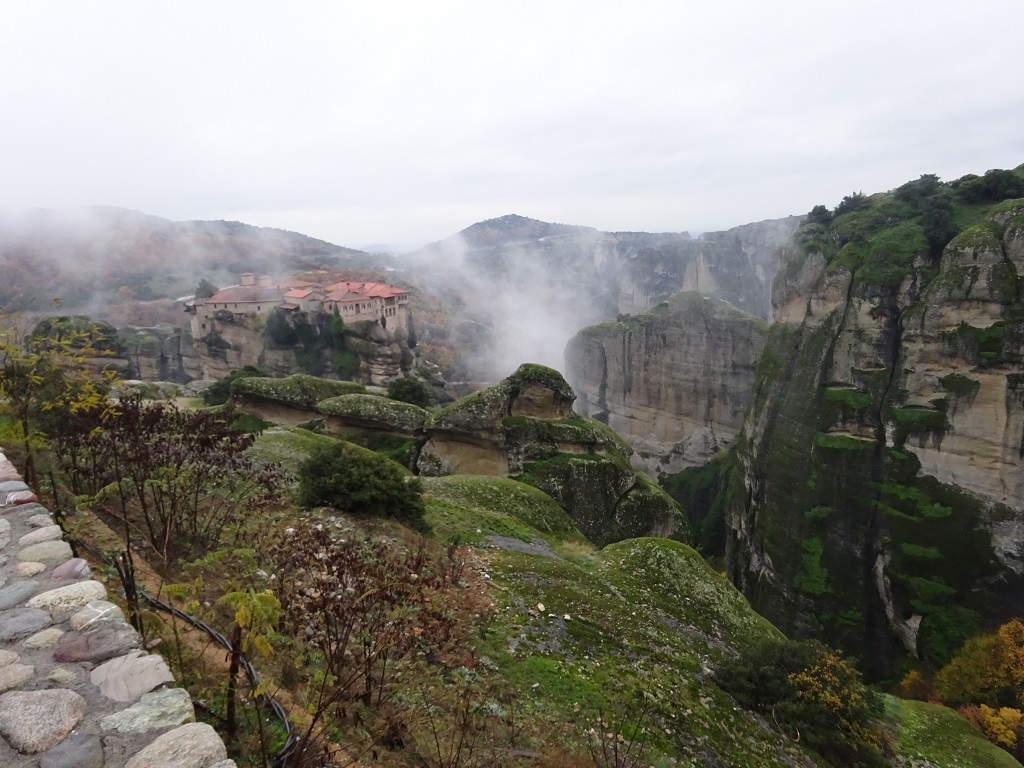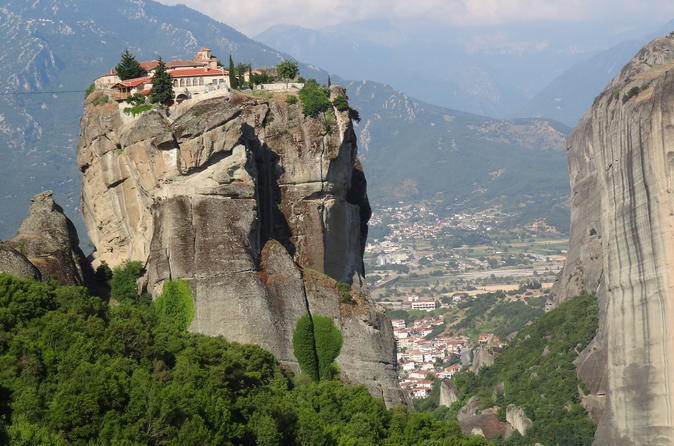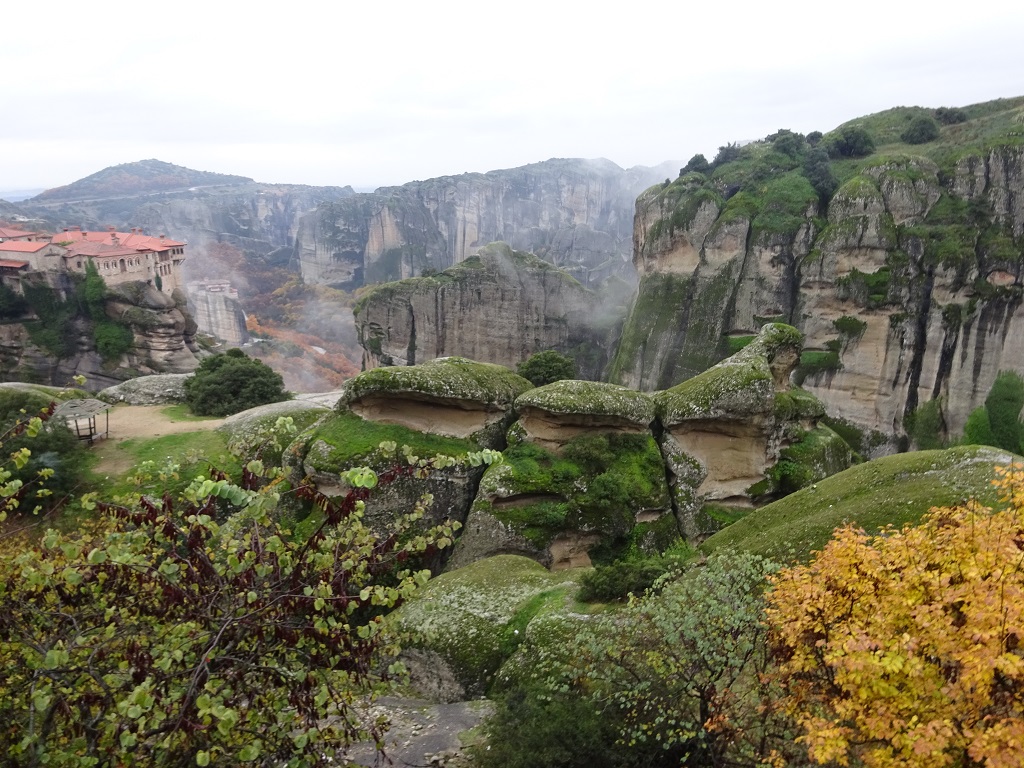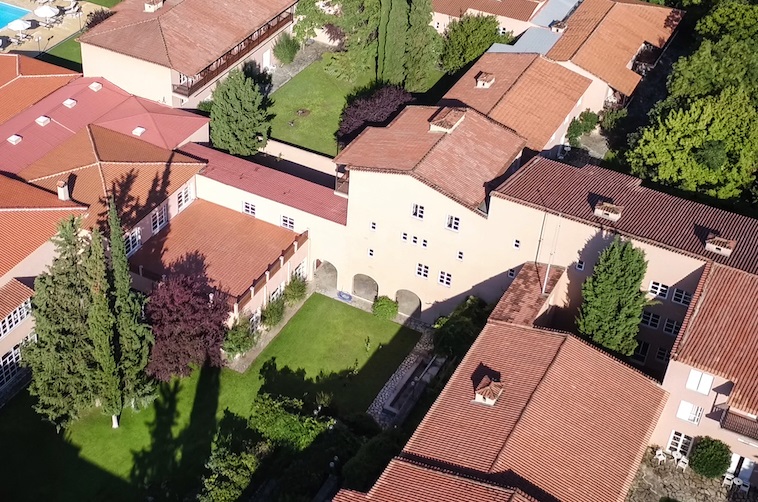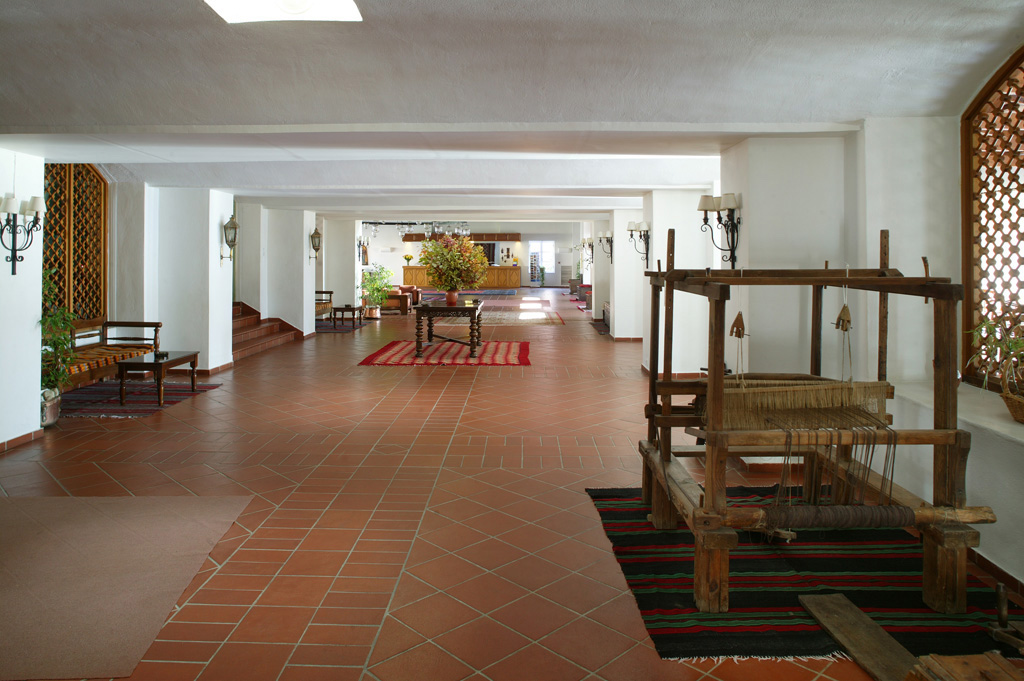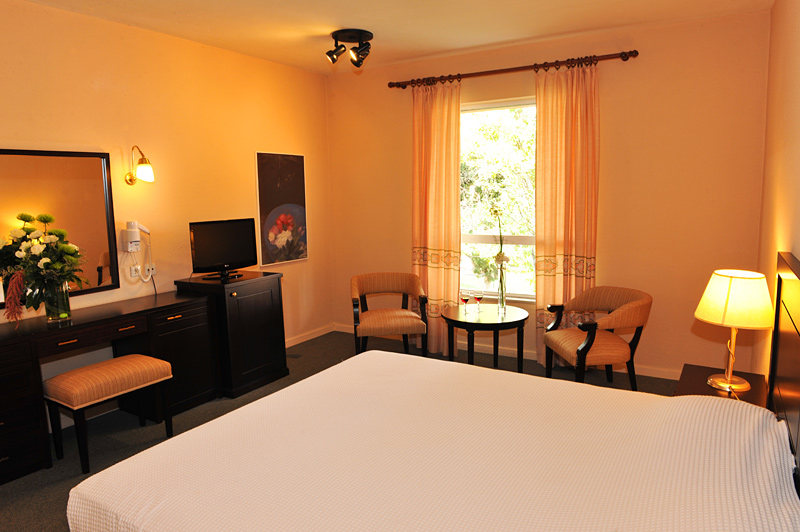 Delphi & Meteora 2 Days - Tour #8A
1st DAY: Drive through Levadia and Arachova (famous for its bright multi colored carpets) arrive in Delphi.

At the foot of Mount Parnassos, within the angle formed by the twin rocks of the Phaedriades, lies the Pan-Hellenic sanctuary of Delphi, which had the most famous oracle of ancient Greece. Delphi was regarded as the centre of the world. According to mythology, it is here that the two eagles sent out by Zeus from the ends of the universe to find the navel of the world met. The sanctuary of Delphi, set within a most spectacular landscape, was for many centuries the cultural and religious centre and symbol of unity for the Hellenic world and seat of the Pythian Games, the second most important games in Greece after the Olympics, which were held every four years.
Visit of the archaeological site (Museum not included)

After visits depart to Kalampaka crossing the Thessalian Plain, the granary of Greece. After arrival short visit of the village.– Dinner & Overnight in Kalampaka (D).
2nd DAY: Today we will see one of the most amazing places in Greece - Meteora
Meaning 'suspended in air' the name Meteora soon came to encompass the entire rock community of 24 monasteries, the biggest and most important group of monasteries in Greece after those in Mount Athos There were no steps and the main access to the monasteries was by means of a net that was hitched over a hook and hoisted up by rope and a hand cranked windlass to winch towers overhanging the chasm. Monks descended in the nets or on retractable wooden ladders up to 40m long to the fertile valleys below to grow grapes, corn and potatoes. Each community developed its own resources and by the end of the 14th century, the Grand Meteoron emerged as the dominant community.
The rock monasteries have been characterized by UNESCO as a unique phenomenon of cultural heritage.
After visits start the drive back to Athens passing through Thermopylae (Photo Stop). This visit sometimes can take place the first day.
Book Now
Ask a Question

DETAILS STRUCTURE
From November 2022 to April 5th 2023
Every Wednesday


First Class Accomodation :

Per Person in Twin/Triple : 211.00 € / Child rate: 108.50 €
Single Supplement : 35.00 €
From April 10th to October 25th 2023
Every Monday,Wednesday,Thursday and
Saturdays only on specific dates April 22 | May 6,20,27 | Jun 10,24 | Jul 8,22 | Aug 26 | Sep 9,16,23,30 | Oct 7,21



First Class Accomodation :

Per Person in Twin/Triple : 222.00 € / Child rate: 111.00 €
Single Supplement : 37.00 €

Tourist Class Accomodation :

Per Person in Twin/Triple : 192.00 € / Child rate: 96.00 €
Single Supplement : 30.00 €
Parents should hold with them a certificate or other proof documents of children's age!
This is obligatory to receive the discount price and their museum entrance ticket!

Inclusions:
- Transportation by A/C deluxe coach
- Professional tour guide
- Entrance fees
- Hotel accommodation
- Breakfast and dinner at the hotel
- Free wifi on the bus
- Free wifi at the hotel
- Map of Athens & Greece
Note Well:
• SURCHARGE: Overnight stay charge 3 Euro per night per room from 01/01/2018
• Vegetarian meal available upon request.
• Drinks and tips are not inlcuded.
• Admission to Monasteries and churches visited on our tours is not allowed to gentlemen wearing shorts and ladies wearing trousers, shorts, short skirts or blouses not covering the shoulders.